GateKeeper TNC-OPS™
Patent Pending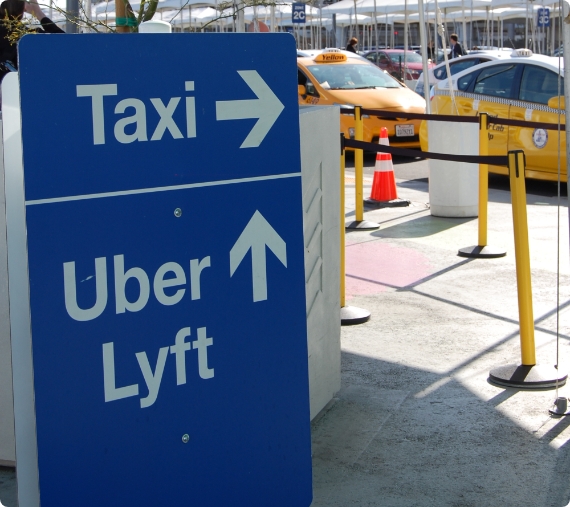 GateKeeper TNC-OPS™ Tracking and Compliance Software
The explosion of popularity of TNC's (Transportation Network Company) as the most popular form of ground transportation at most airports has created a significant challenge for airports to track and monitor their activity while at the airport in a manner similar to other modes of ground transportation.

While some TNC data payment reports provide some level of transparency of fee calculation, others merely present a total fee without explanation. That's precisely why access to and acquisition of TNC roadway system data is vital.
TNC-OPS ™ software:
Allows airport to validate fees paid
Tracks Driver/vehicle trips
Analyzes vehicle trip activity by day of week, time of day, and by company.
Conducts informed "metric" based discussions with all commercial vehicle operators
Product Specific
TNC-OPS accepts data on each vehicle/driver trip sent by the TNC company in near-real-time and stores the data. This data then becomes available for analysis and revenue collection.

Data Integrity: TNC-Op employs the use of geofence technology supported by TNC drivers' smart phones to capture customers who need transportation in order to enable driver payment and allow passenger fee collection. When the TNC vehicle enters/exits the airport, an activity record is automatically generated as the vehicle crosses the geofence. This data is then transmitted by the TNC company to the TNC-Ops software at your airport.

Comprehensive Data Elements: The data collected from each TNC vehicle includes: date, time, location where the vehicle crossed the geofence, company ID, vehicle license plate number, driver ID, and a trip type ID (e.g. entry, exit, pick-up, or drop-off). These data were developed with input from TNCs and is now industry standard for all companies and airports.
Operator Tracking
One of the key components of the TNC business model is the opportunity for all types of individuals to become a driver and generate income. This includes a large number of part-time drivers and a constant flow of new drivers as well as people who decide to stop driving. TNC-OPS automatically registers each new vehicle in the software without any data entry by airport staff (as shown below). That eliminates the need for any face-to-face contact with each driver. The screen capture below shows the individual vehicles that are automatically added to the system when they make their first trip to the airport.
Move Away from the Honor System
TNC-Ops, used in combination with other forms of "enforcement" activities such as random curbside vehicle inspections, passenger surveys, or other automated vehicle monitoring technologies, helps airports move away from an "honor" system of fee payment.
Put the Data to Work
TNC-Ops is a valuable tool to enable your airport to manage and analyze its TNC activity by:
Use of transaction records to analyze TNC payments.
Vehicle trip data made automatically available to provide reports that can be used as backup for a variety of management purposes.
Employing data for critical customer service and space allocation analysis needs.
Drawing on the data to identify and monitor changes in ground transportation activity by company, type of service (taxi, limo, shared-ride, etc.), and pick-up location.
Enforcing curbside activity to verify pick-up and drop-off locations, compliance with staging regulations, driver behavior. TNC-OPS includes a website that can display information in "near real time" to provide a mobile tool for airport staff.
Managing TNCs is a complex and sometimes controversial subject. With 20+ years' experience in providing airports process-centric software, we can be your guide in navigating challenges and creating opportunities in the constantly evolving TNC marketplace.
Contact us today for more information or to set-up a demo!